iloveseo's own, Lead SEO, Brian Harnish, wrote the following random question to John Mueller regarding category pages.
He said: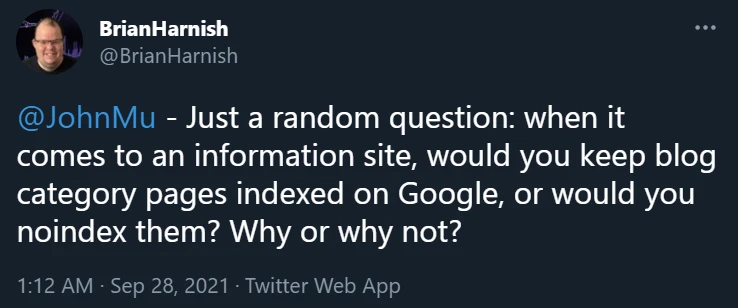 John Mueller replied:
Best Practices for Noindexing Category Pages
First, figure out how they are performing for your site. You can find out via Google Search Console.
Once you have figured out how they are performing, take a look at the page metrics.
Are these category pages indexed?
Are they ranking?
Are they driving any traffic to your page?
If none of these or if only 1, you may want to noindex them. If they are ranking and driving traffic, look at how much traffic they are driving compared to other pages.
And look at their links.
If they are of no value whatsoever and GSC shows that they are only driving a fraction of traffic and/or rankings, then you should noindex them.
In general, for information sites, category pages tend to be of low value anyway, and chances are, they are not driving rankings and traffic for your site.