In recent years, the demand for SEO (search engine optimization) services for businesses has been on the rise.
In fact, just in the last month, searches for the term SEO Agency have doubled. Clearly, interest in SEO is booming, based on the diagram below: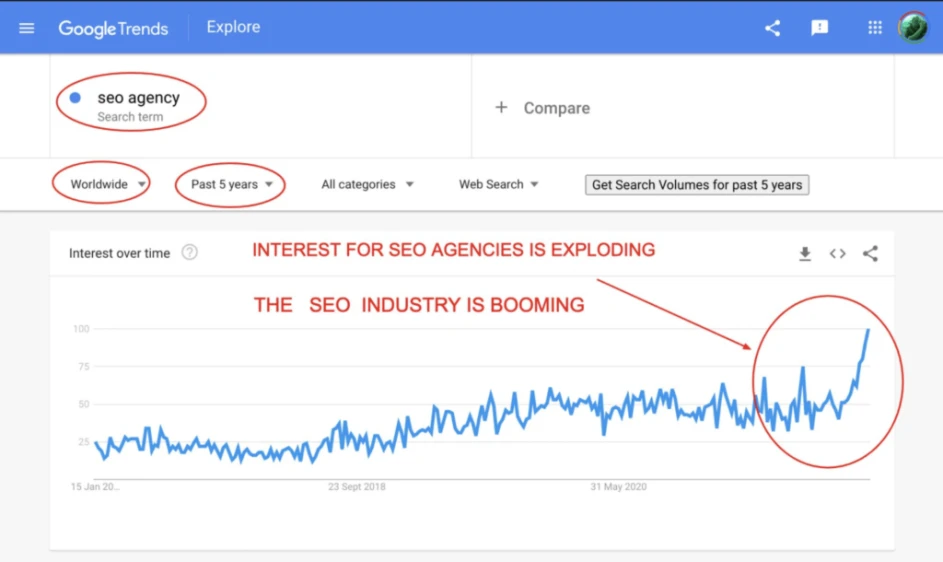 Fery Kaszoni of Search Intelligence Ltd on LinkedIn explained it like this:
When it comes to SEO, you don't want to skimp on costs. If you do, you can expect substandard results, because:
Cheaper SEO agencies (and professionals) do not keep up on Google Algorithm changes on a regular basis.
Cheaper SEO agencies do not (in most cases) have an agile process. Agile is the methodology of increasing productivity and overall production through agile development processes.
This type of process cuts through the noise and clutter of a traditionally cheaper SEO agency and focuses on two points: production and results.
When you work with the right SEO agency, it is possible to increase production as well as your overall results, without severely negatively impacting your marketing spend (or your wallet).
What should you look for if you're going to take your business to the next level and invest in a credible SEO agency?
The Ultimate Goal of Your SEO Services
Your SEO agency should be talking to you about your ultimate goal for SEO services during your discovery process and before you are assigned to an account representative.
If your expectations are misplaced, you may not get the results you are looking for from your SEO agency.
This should lead to a discussion about what's important to improving the bottom line of your business.
If you're looking for leads, but your SEO agency is looking at improving metrics that are not important to your business, then you may want to consider explaining to them that leads are the primary metric that you care about.
Ultimately, if you are a service-based company, then you care about leads.
These types of leads are the people who are going to buy from your business because they are primed and ready to do so.
Your SEO company should already be aware that your primary goal is to find well-qualified leads who will buy from you.
Your SEO company should also be aware that qualified leads can differ depending on the industry niche and what you are selling.
All of this is critical information that must be unearthed through the SEO discovery process.
What Is An SEO Agency?
Quite simply, an SEO agency is a company that is dedicated to improving the quality and results of your SEO efforts.
An SEO agency will offer search engine optimization services to professionals and businesses, in order to help them improve their online presence.
Many of these services may include the following:
Editing
Storytelling
Data analysis
Software Development
Design
User Experience
CRO (Conversion Rate Optimization)
Public Relations
Email Outreach
Digital Project Management
Online Research
Digital Assistants
SEO encompasses many different types of professionals in order to achieve the results you want.
And it seldom works in a vacuum.
How Much Does an SEO Agency Cost?
The cheapest SEO agency can cost around $29.95 a month. The most expensive SEO agencies may charge $20,000 or more per month.
Why is there such a difference and disparity here?
The main difference is between how comprehensive their SEO services are. One cheaper agency may offer the optimization of approximately 5 of your important pages, and maybe 15 targeted keyword phrases.
And they may focus on only on page optimization for the lowest possible competition for your keyword phrases.
The more expensive SEO companies will have premium SEO services at your disposal, all of which take into consideration higher competition levels along with more risk.
Also, the big difference between cheap SEO companies and expensive SEO companies is how much they cost you in the end, and not just in the retainer fee you are paying them.
The cost we are talking about here is what you lose by working with them.
Usually, the more expensive SEO company will have the reputation and the industry clout to back it up.
And, they will likely (in most cases, at least) save you from making significant mistakes that you would have otherwise made yourself.
As always, it's important to perform your due diligence on the SEO company you plan on working with, to make sure that they really can deliver on what they promise.
What Kind of Services Does an SEO Agency offer?
As many SEO professionals may attest, this is one of those annoying "it depends" answers. But, in general, a credible SEO agency will offer the following services:
SEO – search engine optimization – is generally defined as the overarching service that includes many of the following disciplines, all of which are designed to increase the weight of ranking factors on your page in your favor.
The increased performance and organic traffic will help to grow your business to new levels.
Depending on the SEO agency there may be variations:
SEO Campaign Management
Google Analytics Reporting
Full Service SEO
Custom SEO Strategy
Local SEO
On page SEO
Off Page SEO (Link Building)
Social Media Promotion
Reputation Management
Technical SEO
Web Accessibility
Content Marketing
SEO Friendly Web Design
Mobile Web Design and Optimization
Google My Business Optimization
SEO Campaign Management
This is the bread and butter of most top SEO agencies. Managing an SEO campaign is something that needs specialized experience and knowledge in order to be successful.
In other words, you can't just set up a blog and call yourself an SEO expert.
Well, you can. But your industry reputation would be shot when you make mistakes and several clients in a row leave you as a result.
No, becoming an expert takes time. It takes time to be a part of an industry and have people come to know you as an SEO expert.
Aside from that, SEO campaign management includes things like link building, on page SEO, content writing, content marketing, social media marketing, and other related activities in order to help improve your website's performance.
SEO campaign management also helps improve your SEO campaigns overall, because your assigned representative could have expertise that you do not.
SEO campaign management also works to improve your keyword rankings and website traffic performance, along with your technical SEO.
Keep in mind that every SEO campaign is different, and varies depending on the SEO agency you select and their experience in driving results that are relevant to your business.
And yes, this should include getting your page ranking on the first page of Google. The problem with this is, most legitimate SEO companies will shy away from guaranteeing rankings.
No legitimate SEO company can guarantee rankings, because Google controls their own search results.
Despite what some SEO agency owners would have you believe, the things that SEO pros do have control over actually are designed to help increase your rankings, traffic, and leads.
Also, improvement in revenue should be a focus of your SEO campaign too. If you're not working to improve what your business needs, based on your own feedback, then you're kind of shooting the arrow in the dark.
In addition, some companies don't focus just on Google. They could focus on SEO for other search engines like Bing and Yahoo as well.
It's a great idea to always ask an SEO agency how they divvy up their services and what their specializations are. There is no set rule that an SEO agency does this, this, and this.
The reason being is that with SEO, many SEO agencies could have varying opinions on what works and what doesn't.
And not everyone believes the same thing 100 percent of the time when it comes to SEO. Someone might believe that keyword research should include long-tail keywords. Others might believe that keyword research should include broader words.
This is why it's important to vet your SEO agency and make sure that they are actually somebody who can do what you require in order to drive meaningful results to your business' overall marketing spend.
Google Analytics Reporting
Reporting is a significant part of the operations of any SEO business. Figuring out the best approach to reporting can make or break the success of an SEO business.
This is why choosing an agency, who has an analytics reporting platform you can work with, is something that can mean the difference between success and failure.
If you don't know the reasoning behind your SEO agency's SEO decisions, then you may not be on the same page with each other.
If you're not on the same page, then your relationship with your agency could deteriorate fast, because you won't know the difference between what your agency's data-driven decisions are vs. conjecture.
Full Service SEO
Most full service SEO agencies have something in common: they all feature at least some form of SEO that targets the three major areas of SEO: technical SEO, content writing, link building, and other SEO services (to be determined by your discussions with that SEO agency).
Usually, full service SEO (unless otherwise specified) will focus on organic search, trying to improve website traffic and overall revenue.
Your pages may be optimized from the top down. This includes title tags, meta descriptions, schema, and other on-page SEO factors that will help increase your website's performance.
This is all to improve your traffic coming from Google search.
SEO Strategy
SEO strategy refers to the overarching actions that are being taken to improve your website in the search engines.
Everything from making sure that you're getting links from relevant websites, to extensive keyword research, to making your web content accessible, and obtaining relevant traffic.
This is where your SEO strategy comes in.
The right SEO company should be able to set your SEO strategies for you, and make sure that execution continues to remain on the right track.
This is where you can employ the SEO tactics used by your digital agency, and make sure that they align with your overall brand.
Your SEO strategies will also play into how much organic traffic you receive, and should all lead to an increase in your organic search visibility.
This is why it's so critical to have an agency that has the right professionals on hand to recommend the correct SEO strategies for your site.
The wrong SEO strategies can lead to irreparable damage, so it's important to choose wisely in this area.
Making sure that things happen correctly for your SEO implementation, in a way that makes sense to you, will lead to dividends in improving your ROI (return on investment).
Local SEO
Your SEO agency should be able to provide local SEO services as well. This type of SEO is necessary in order to take your own business development to the next level.
This will help establish the local online presence and improve the local online visibility of your site – especially where local queries are concerned.
If organic SEO is national, then SEO on a local level is something that is focused on local queries.
Your SEO agency should be able to help you identify where to improve your SEO strategy so you can improve your organic search traffic.
On Page SEO
Your SEO agency should also be taking care of on page SEO. Their SEO experts should be able to come up with an on page SEO strategy that will help your pages rank.
On-page SEO is not only about making sure that your page content is written with SEO in mind, but also making sure your pages are relevant within the overall content ecosystem of your website, that your on page strategy throughout the site is on point, and that you have included the appropriate, relevant keywords throughout your content.
SEO writing is different from "normal" writing. The Google algorithm, while sufficiently advanced, still needs fuel in order to arrive at the destination you want: higher rankings. That fuel may be keywords. Sometimes it may be links. Sometimes it may be on page SEO. Either way, these elements of SEO work together in order to ensure a much more comprehensive online presence.
In addition, on page SEO specialists should be making sure that your technical SEO is on point as well.
If your site is a mess technically-speaking, and Google can't crawl or index it, they will not be able to see the on page SEO that has been performed.
Thus, they will not be able to evaluate that SEO properly.
Any professional SEO agency should already have working processes in place to achieve all of the above, and more.
Off Page SEO (Link Building)
For most industries, everything is insanely competitive online. This means that you need links in order to rank. It's also a known ranking factor.
Off-page SEO should be a cornerstone of any successful SEO campaign. Whether it's done by the SEO agency or carefully outsourced.
While you can rank with content, this may happen when 1. Your content is of such an insane level of high quality that Google has no choice but to rank, and 2. You build the right authority links.
But how do you get links? Google is on record saying that two things count as "natural" links:
Online Digital PR Campaigns
Creating great content that naturally attracts links
While guest posting is recommended by some SEO professionals, guest posting is considered spam by Google.
That leaves online digital PR campaigns and creating great content that attracts links.
Any digital marketing agency worth their salt should already have such link acquisition processes in place in order to achieve this for you.
Social Media Promotions, or Social Media Marketing
Creating content that ranks is all well and good, until no people visit. You can't expect people to visit your site if you don't tell them about it.
This is where social media promotion comes in.
While it doesn't help your search engine rankings directly, it is more of an indirect factor.
When you promote your content to the right people on social media, this can lead to links. It can lead to shares. Which leads to more exposure. Which then could result in more links.
This is why social media promotion works great when done in tandem with search engine optimization.
Search engine optimization gets your content in front of the eyeballs of people who are physically searching for your keywords.
Social media promotion gets your content into the view of industry influencers who may work to help you naturally amplify that content and help it go viral.
This is why social media promotion shouldn't be considered as your entire strategy. Instead, it's another foundational element of successful search engine optimization.
Your SEO team should already have some social media promotion worked out as part of your SEO strategy.
If not, it's time to make sure that your team does, because this can be a significant part of making that search engine optimization strategy successful.
Social media platforms are a powerful marketing channel, and can open up avenues for traffic that you may not have identified before.
It adds yet another dimension that your SEO agency can use in order to increase the type of traffic you receive – and the type that you want.
Reputation Management
Have you ever heard of the old adage "any publicity is good publicity"? This could not be further from the truth.
The internet is full of examples of social mis-steps taken by people online. While some may have had good intentions, others had evil intentions.
The end result was that these mis-steps ended up with a stain on the reputation of the people who made them.
This is why that old adage does not hold true.
And this is where reputation management comes in.
Reputation management controls the perception of your brand identity, and your brand value, online.
Usually, a digital marketing agency does not provide this as a staple of their search engine optimization services.
Instead, this may be sold as an add-on service, or you may have to request it for your particular situation.
Just make sure that your reputation management people work with your SEO team to ensure a cohesive strategy across all of your brand's media properties.
Technical SEO
Most SEO agency services should also include, at their very basic levels, technical services that dive deep into the technical aspects of your site.
This means things like:
Making sure your robots.txt file is correct.
Your site's not throwing significant server errors.
You don't have significant 4xx errors showing up.
That it's fully crawlable and indexable by Google.
Your Sitemap file is not full of errors.
Ensuring your site's page speed isn't egregiously bad.
Your code is not preventing crawling and indexing.
Your JavaScript implementation is not preventing crawling and indexing.
Your Schema.org markup is correct.
You nail down Core Web Vitals numbers on your web pages.
And many other potential issues.
Your technical implementation really can make or break your SEO success. And if potential issues arise where your site's no longer performing, you want an SEO agency who can make sure that your site is perfectly optimized for the search engines in this manner.
Back to our car analogy: as we have stated previously, search engines need fuel to get to where you want them to go on your site. They don't just rank (or not rank) your site out of nowhere. And your site's technical backdrop is the best engine for this fuel.
Web Accessibility
Now, more than ever, web accessibility is an increasingly hot topic. And your SEO agency should be well-equipped to handle any accessibility issues that may arise on your site.
Any SEO pro should be able to take into consideration web accessibility when performing a thorough examination of your web pages.
Aside from having W3C valid code for the right cross-platform compatibility (thus increasing your site's potential web accessibility factor), you should have properly optimized page elements like form elements, code elements, and many others.
For example: if you implement your website's form screen reader controls properly, this can result in people using screen readers having an easier time accessing your site to fill out that form.
Other screen reader optimization elements include proper alternative text (alt text) on images. Screen readers don't read images by default, and they need alternative text in order to speak the words that help assist the blind. This is why it's important to ensure blind users visiting your site have an opportunity to use it too.
Large clickable areas on forms also work to improve web accessibility. Smaller controls like radio and checkbox elements benefit from having labels to assist people who have limited dexterity. When you provide accurate form labels in this manner, this can help increase the likelihood that persons with disabilities can use your site without issue.
Other things like larger search icons can help, which translates to an easier to click on-page element for disabled persons.
Because many blind people use screen readers, optimizing for these types of devices is more than just a checkbox on an accessibility checklist. It means that these users will have the best experience and that their screen readers won't produce gibberish.
Yet another component of accessibility includes WAI-ARIA (or the Accessible Rich Internet Applications Suite).
This web accessibility standard is a definition created by the W3C that defines ways to ensure that web content and web applications are more accessible.
This standard especially helps with dynamic content and other advanced UI controls, such as those that are developed with HTML, JS, and other technologies.
Web accessibility lawsuits are on the rise. According to jdsupra.com, they rose from 814 in 2017 to 2,523 in 2019, a 12% increase.
It pays to ensure that your site is properly optimized to include these elements in order to make things accessible for everyone.
Your SEO agency should have at least some working knowledge of web accessibility so you can work to make sure that your site is more accessible for everyone who may access it.
Content Marketing
Content marketing is yet another foundational part of your SEO strategies that needs to be executed properly, so that your site can achieve the goals you have set for it.
Your SEO agency should have at least some type of content marketing plan in place.
If social media marketing is meant to get your content in front of influencers, then content marketing is the fuel that can drive the actual shares of this content and its amplification.
With content marketing, you are regularly creating and distributing high quality content on your site.
This also works to help build links that are natural too – and from this amplification you can expand your digital marketing empire.
For example, one possible content marketing strategy could include the following:
Making sure that your content aligns with your customer journey. Find out what your audience and customer wants, and base your content creation around that. Identify things like their needs, burning questions they have, and the topics that will benefit them.
Audit your existing content for improvement and elimination. Figure out what pieces can be used as they are, things that need to be updated, or even further optimized.
Create your production plan and outline how you will accomplish this strategy.
Create the KPIs (key performance indicators) that will define the success of your content marketing campaign. Each piece of content should have an objective decided upon, and then KPIs can be implemented in reporting based on this.
Any legitimate search engine optimization company should include the above in your content strategy.
But it all depends on what your site needs. If you have a lot of content already, then you may only need smaller adjustments.
Either way, a comprehensive content strategy will help you increase your backlinks naturally, and then your online visibility as a result.
Your digital marketing agency should be able to tell you where you need to go next as part of this strategy.
SEO Friendly Web Design
Yet another component of a successful SEO strategy is making sure that your site includes an SEO friendly web design.
What makes an SEO friendly web design different from a normal web design?
For one, a normal web design just designs for appearance alone. It seldom takes into consideration other SEO components like the overall digital marketing strategy, keyword research, topic research, social media, and many other components.
An SEO friendly web design not only takes into consideration all the above digital marketing elements and more, it goes the extra mile in ensuring cross-platform compatibility along with other critical elements like the speed of your pages.
All of the digital marketing elements are – generally – already built-in into an SEO friendly web design.
As a result, it's much easier for search engines to crawl and index your site.
Any professional level SEO agency should have some input into whether your existing design meets the bar of being SEO friendly or not.
Mobile-Friendly Web Design and Optimization
With Google's mobile-first index, it should come as no surprise that we recommend that any current site design should include mobile-friendly optimizations.
This means that sites should not do things like use an m-dot subdomain, and should be built using responsive design principles.
If you are working with an agency that is not using a mobile-friendly web design approach to create your site, you are doing yourself a disservice and should fire that agency, because they are not up on the latest developmental requirements that Google needs.
If you have an existing site that isn't mobile-friendly, your SEO experts should be recommending that you do so as part of your ongoing SEO recommendations.
Clearly It's Great to Be an SEO Agency in 2022!
If you are searching for an agency, we think that you should try out Hennessey Digital! Of course, we are biased.
It's clear that with the rise in search volume for the term SEO agency, and the fact that a significant increase has been observed at the start of the year means that many people are looking for one right now.
If you're looking to make the leap into creating an SEO agency, now may be a great time to do so.
And if you're just looking to get your feet wet while you keep your day job, you may find a nice side hustle to supplement your existing income.
Either way, we don't see SEO dying anytime soon, and in fact, we continue to see a great need for SEO agencies.
What are you waiting for?