Following up on our earlier story regarding the Semrush IPO, today is the day that Semrush shares can be purchased on the stock market under the ticker symbol SEMR.
The offering was first priced at $14 per share on Wednesday. This is on the lower end of their expected range, which was $14-$16 per share.
The range of their stock price still values the company at approximately $2 billion. So far, the firm has sold 10 million of its first 16.8 million shares.
The IPO is expected to generate approximately $140 million for Semrush minus expenses. If all overallotment options are exercised, however, that amount would rise to $161 million.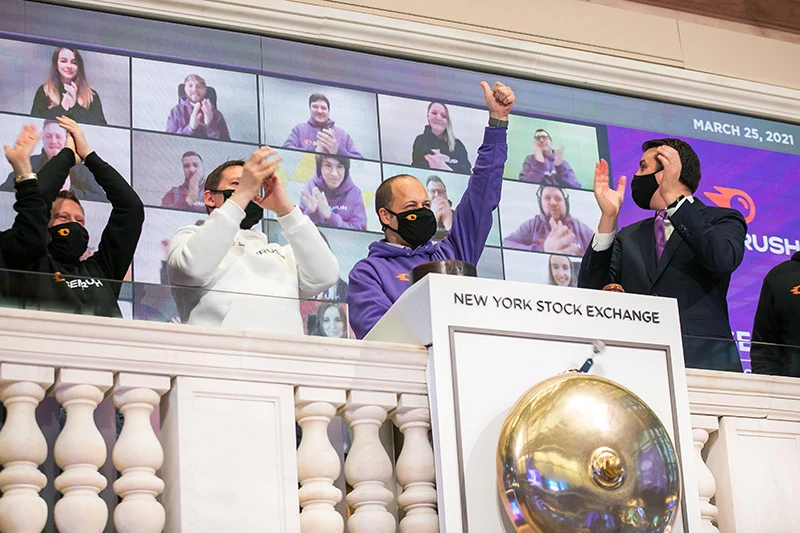 Semrush IPO: What's Happening?
What's currently happening with the Semrush IPO? They had a strong start, but have dropped significantly in the time since.
They were previously at the upper end of $14 per share, but have now dropped to approximately $11.01 per share at the time of writing:
With this initial public offering, Semrush gained $140 million and were able to bank it. The market voice, however, says their actual worth is $110 million.
More About the Semrush IPO
From the Business Wire press release:
"Semrush Holdings, Inc. ("Semrush"), a leading online visibility management SaaS platform, today announced the pricing of its initial public offering of 10,000,000 shares of Class A common stock at an initial public offering price of $14.00 per share. In addition, Semrush has granted the underwriters a 30-day option to purchase up to an additional 1,500,000 Class A shares at the initial public offering price less the underwriting discount. The shares are expected to begin trading on the New York Stock Exchange on March 25, 2021 under the ticker symbol "SEMR" and the offering is expected to close on March 29, 2021 subject to customary closing conditions.
Goldman Sachs & Co. LLC, J.P. Morgan Securities LLC, and Jefferies LLC are acting as joint lead bookrunning managers. KeyBanc Capital Markets Inc. is also acting as a joint bookrunning manager for the proposed offering. Piper Sandler & Co. and Stifel, Nicolaus & Company, Incorporated are acting as co-managers."

Other Semrush IPO Facts
This $14-per-share pricing also values the company at around $1.95 billion to $1.99 billion.
The total pricing is also dependent on whether or not underwriters take advantage of overallotment options or not.
Semrush is scheduled to begin fully trading on Thursday on the New York Stock Exchange (NYSE) under the ticker symbol SEMR.
The company wrote in its U.S. Securities and Exchange Commission S-1 filing that "we enable companies globally to identify and reach the right audience for their content, in the right context, and through the right channels."
They also reported a 2020 net loss of $7 million on approximately $124.9 million of revenues. This helped improve 2019's $10.2 million of red ink on $92.01 million in sales.
After the IPO, Semrush fell more than 20 percent. Based on the Chief Financial Officer Evgeny Fetisov's comments to Seeking Alpha, they are not worried. Fetisov explained:
"The market is soft these days [and it's] not like we are not desperate to get more capital," he said. "We think the right time for us to go public [and] the price is acceptable, so we're happy with what we got, with the quality of the investment base that we got."
Letter from the Founders of Semrush
The founders of Semrush published a letter today announcing the full initial public offering, in which they described their upcoming plans for the company:
"We dream that in the future, marketing is not an overly difficult profession. We believe it should be a skill that is accessible to everyone, much like the skill of using the Microsoft Word or Excel.We envision that artificial intelligence and automation will empower people to innovate which will lead to an explosive growth in goods and services. Marketers will need to figure out how to talk about these innovations, through what channels and to which audiences. Semrush is here to help our users achieve those measurable results.
In years to come, our dream is about 1 billion marketers who will better understand: Who their audience is, their key interests, how to best interact, as well as analyse and predict consumer trends. Who we are if we stop dreaming?
So many dreams ahead.
We invite you to dream with us.
Oleg and Dmitiri."
Indeed, Oleg and Dmitiri. We love your vision of the future of internet marketing as a more accessible profession.
We all want to better understand our audience and their key interests as well as how to precisely engineer an SEO campaign to help drive those all-important traffic numbers, rankings and conversions. Luckily, tools like Semrush can help us do just that.
Image Credit:
Featured image: Monticello / March 2021
Image 1: Semrush Twitter Account / March 2021
Image 2: Semrush Twitter Account / March 2021